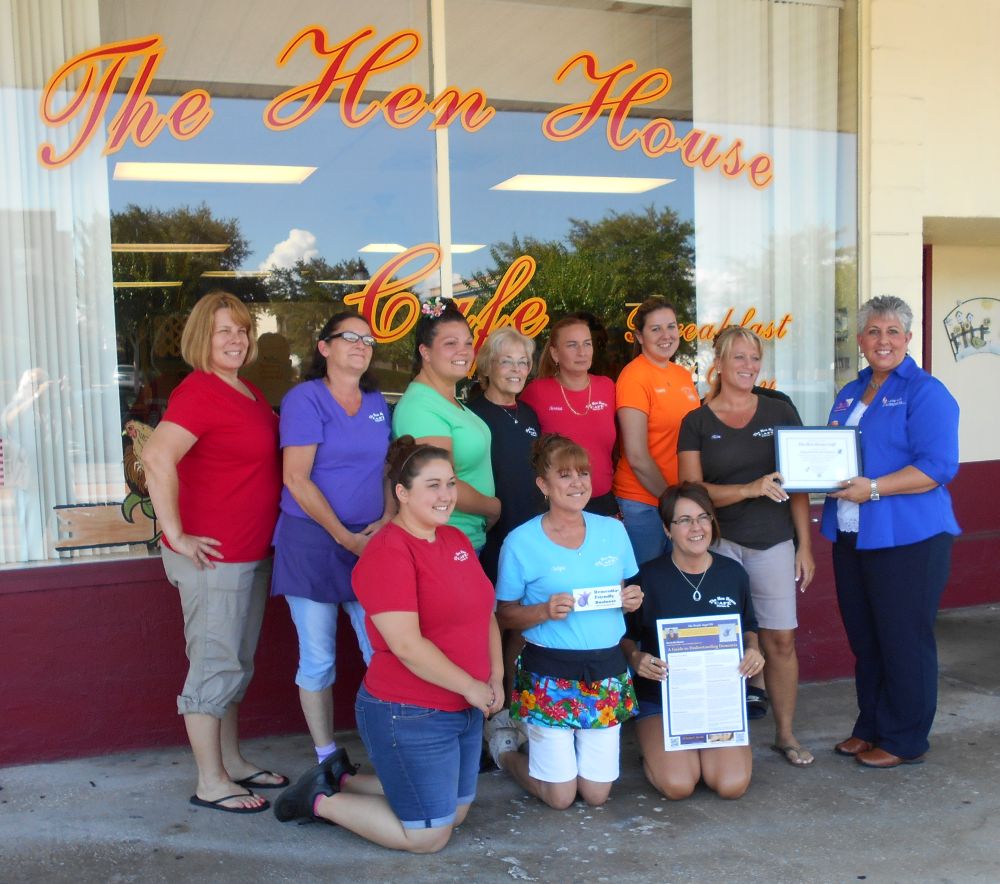 Inverness, FL., June 7, 2015 – By providing special training for its staff, the Hen House Café, located at 206 Tompkins Street in Inverness, has become the first business in Citrus County to be certified as a Dementia-friendly Business.
Café owner Kimberly Speckner explains, "Our success has always been based on good customer service, but this takes our standard of service to a new level." She continues, "People suffering from Alzheimer's and dementia, including their family caregivers, represent an ever growing segment of our population in Citrus County. They deserve better understanding and specific techniques of service to meet their needs. This is what they will receive at the Hen House Café."
The Dementia-Friendly Business training for the Hen House Café was provided by Coping with Dementia LLC, a company specializing in Alzheimer's and dementia care training and education. The company was started recently by Debbie Selsavage, a former Alzheimer's caregiver, an assisted living facility licensed Administrator, a member of the Alzheimer's Family Organization Board of Directors, and a certified trainer for Positive Approach to Care.
Selsavage states, "Our one-hour training program teaches simple and common sense methods of interacting with people with dementia, and their families. It teaches acceptance, understanding, respect for the dignity of individuals suffering from dementia, and special tips and techniques for serving them."
Individuals who complete the course receive a handbook and a wallet card verifying their training. Businesses offering the training to their employees receive a certificate, a 'Dementia-Friendly door or window stickers, and a poster to remind their employees of the special needs of individuals suffering from dementia.
For more information about training and educational services provided by Coping with Dementia LLC, go to www.coping.today or call 352-422-3663.