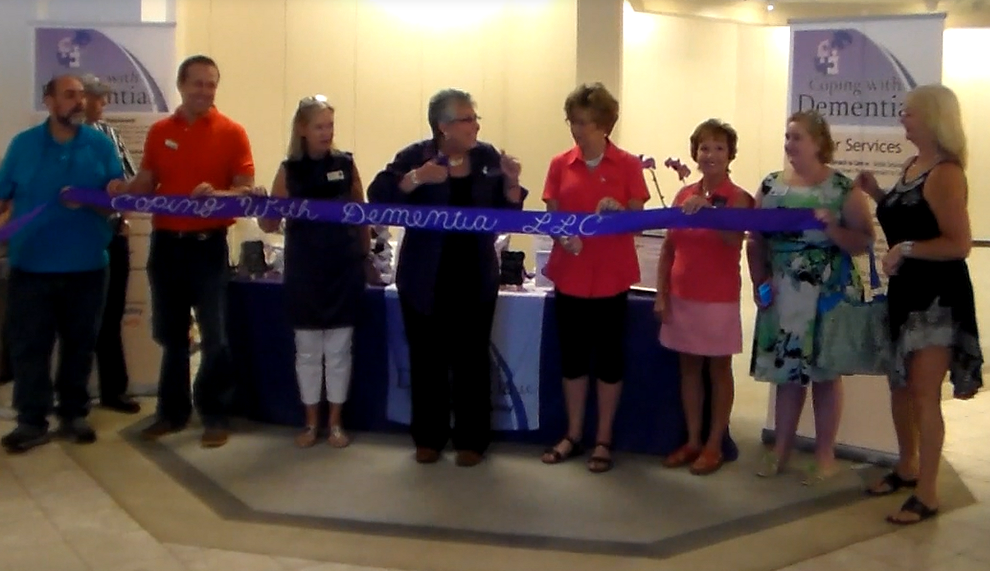 Crystal River, FL., April 25, 2015 – Coping with Dementia LLC, a new Inverness-based company specializing in Alzheimer's and dementia care-training and education, made its official debut with a ribbon cutting ceremony at the Dash for Dementia, a fund-raising event for the Memory Enhancement Center of America, at the Crystal River Mall on April 25, 2015.
Coping with Dementia LLC was established recently by Debbie Selsavage, a licensed assisted living administrator. Selsavage states, "Our mission is to provide training and educational programs for both professional and lay care-givers for Alzheimer's and dementia that will place emphasis on and demonstrate the effectiveness of making compassion, love, humanity, and dignity the core qualities of care."
Selsavage had her unwelcome introduction to dementia in 2005 when her husband was diagnosed with Alzheimer's. She recalls it as a plunge into a world of pain and uncertainty. She recalls, "Answers and resources seemed so hard to come by. One of the most difficult was finding professional care that understood how to appropriately deal with patients with dementia."
Selsavage reports that her husband's residency was terminated from four memory care facilities before she found one that provided effective and compassion-based care. She adds, "It was clear to me that many of the caregivers had no training at all in the special needs of people with dementia."
After her husband's death, Selsavage became an assistant to an administrator at a memory care facility in Lecanto, vowing to try to make a difference. From there she was recruited to a facility in Crystal River where she became trained and licensed as an Administrator, and earned a "Deficiency Free" status from the Agency for Health Care Administration during her first year on the job.
In September, 2014 Selsavage organized the Coping with Dementia Conference in Hernando which focused strictly on care-giver issues. It drew participation of nearly 200 people who wanted to learn more about how to care for their loved ones.
She relates, "When I saw the deep need for information and techniques of compassionate care, I resigned my job and set out to create my own company that would have the ability to reach out to more families and caregivers."
Selsavage became a certified trainer in The Positive Approach to Care, a technique of compassion-based care developed by Teepa Snow that is considered by many to be the Gold Standard of Alzheimer's and dementia care. She also joined the Board of the Alzheimer's Family Organization and became an Ambassador for the Purple Angel Project, an international effort to raise dementia awareness and understanding.
Coping with Dementia LLC trains both professional and lay caregivers in the philosophy and techniques of person-centered compassionate care. It also provides dementia-friendly training for businesses not in the health industry,
offers one-on-one counseling to caregivers at reasonable rates, and conducts free family caregiver meetings in both Inverness and Crystal River.
For more information about Coping with Dementia LLC, contact Selsavage at [email protected], or call 352-422-3663.