CAREGIVER SUPPORT GROUPS,
FREE AND OPEN TO THE PUBLIC!
People touched by this disease or other related memory disorders come together in a non-judgmental, safe environment to discuss frustrations and share coping techniques.
Debbie Selsavage is the Support Group Leader. For more information call:
352-422-3663 or Email: deb@coping.today
Crystal River Library, 8619 W. Crystal Street, Crystal River
September 12th at 1:30 pm
Cornerstone Baptist Church, 1100 W. Highland Blvd, Inverness
September 20th at 1:30 pm
Please visit my website at www.coping.today for more helpful information.
Support Groups are one of the ways to know that you are not alone. You may even have a smile when you leave.
Stop by. We would love to meet you, and you just may meet a new friend. You do not have to try to manage this alone.
Hope to see you there!!!


New Program Citrus County Sheriffs!
The Citrus County Sheriff's office has a program that I cannot say enough about. Caring for a person living with Alzheimer's and dementia is very difficult, stressful, and overwhelming. We have to have layers of protection in place for both parties. The Special Person Registration Form is one of those layers. Unfortunately during this journey you may have to make a 911 call to the sheriff's department. The more information that they have before they arrive on scene, the better it is for all concerned. By registering your person you can help the deputies respond more appropriately to the situation. If they realize the person may have some cognitive issues, they can respond accordingly.
Please take advantage by going to this link http://www.sheriffcitrus.org/register-someone-with-autism-dementia.php and complete the form. Help the sheriff's department keep your loved one safe.
Citrus County Sheriff 352-726-4488.


Caregiver Learning Day
The Alzheimer's Family Organization (AFO) is presenting an educational event on August 25th from 10:00 a.m. - 2:00 p.m. This will take place at The Residences of Timber Pines, 3140 Forest Road, Spring Hill FL, 34606.
The AFO is a community based, non-profit organization focused on helping caregivers achieve and maintain a better quality of life not only for their loved ones, but for themselves. The topics of this workshop will include:
Long Term, Care Planning - Tim Hill, Health Care Solutions, LLC.

Learn from Your Loved Ones - Deborah Selsavage, Owner of Coping With Dementia LLC, President of Alzheimer's Family Organization.
There will be other resources available to assist you in answering your questions.
You never know what you may learn to become a better caregiver. If you would like more information about this event, or to RSVP please call 352-616-0170.
Please do not miss out, call now. We will love to answer your questions.



Feature Service

of the Month:
Coping with Dementia Monthly Column
Many businesses use a wide range of sources to promote what they are doing or providing, which may include a web site, Facebook, e-mailing, mailers, and newspaper ads and stories, just to mention a few. Of course, I do this as well with my company, Coping with Dementia.
A friend of mine said that it takes 13 impressions for someone to remember the point you are trying to make. The reason I mention this is that The Coping with Dementia column has been in the Citrus Chronicle for 19 months, we recently are finding that people are commenting about our stories much more often, saying that they like them and that they are learning from them. Another example is that when we were in the bank the other day, I could hear a person say to her friend, "Is that the Dementia lady?" I learned that their recognition came from the fact that my picture always appears with the column.
One of the most successful ways that Coping with Dementia has been able to get our message out is through the Citrus County Chronicle. I have really enjoyed writing the articles and it brings me joy when I learn that people are getting something from the column as well. So, if you will continue to read I will continue to write.
Just mark your calendar for the first Tuesday of every month. My column will be in the Health Section. Let me know what you think.
And please visit www.coping.today frequently. It contains a lot of information and a lot of resources for you, the caregiver.
Remember: "We all deserve the best" -- that also includes you the caregiver.
P.S. Oh yes, let me mention that I have started doing a monthly column in Senior Voice as well. You can learn more about this very valuable resource elsewhere in this newsletter.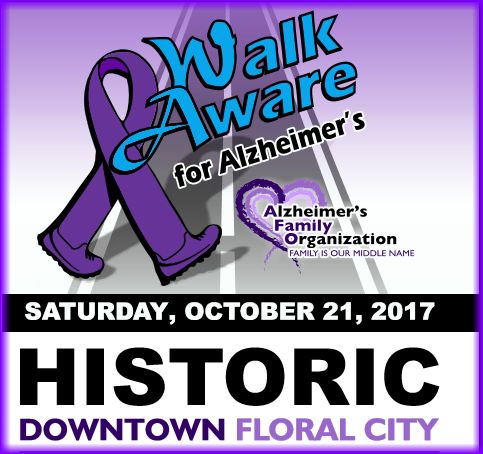 Citrus County's First Walk to benefit the
Alzheimer's Family Organization
Floral City will host Citrus County Walk Aware for Alzheimer's on October 21, 2017. The walk will be the focal point of a four-day series of activities to raise funds and awareness for Alzheimer's from October 19 through 22. For a single tax-deductible entry fee, walkers may walk the trail, the town, or both.
In addition to the Saturday walk, the series of activities will include a reserved seat only showing of "I'll be Me," the documentary of legendary singer Glen Campbell's struggle with dementia, at the Valerie Theater in Inverness on the evening of Thursday October 19th. Tickets are on sale on the Valerie web site now!
On Friday evening October 20th, an exhibit entitled The Art of the Fidget Mat will open at the College of Central Florida in Lecanto. Fidget Mats are colorful, unique hand-made small fabric quilts used to provide therapy and activity for individuals with dementia. The exhibit will remain at the College throughout the month of November.
The awareness weekend will end with a second matinee showing of "I'll be Me" at the Valerie Theater on Sunday, October 22.
Walker entry forms and sponsorship opportunities are now available for Citrus County Walk Aware for Alzheimer's.
For more information, call 352-422-3663 or 352-616-0170, or e-mail deb@coping.today. Online registration is available https://alzheimersfamily.org/walkaware/.
Come out and support this great cause.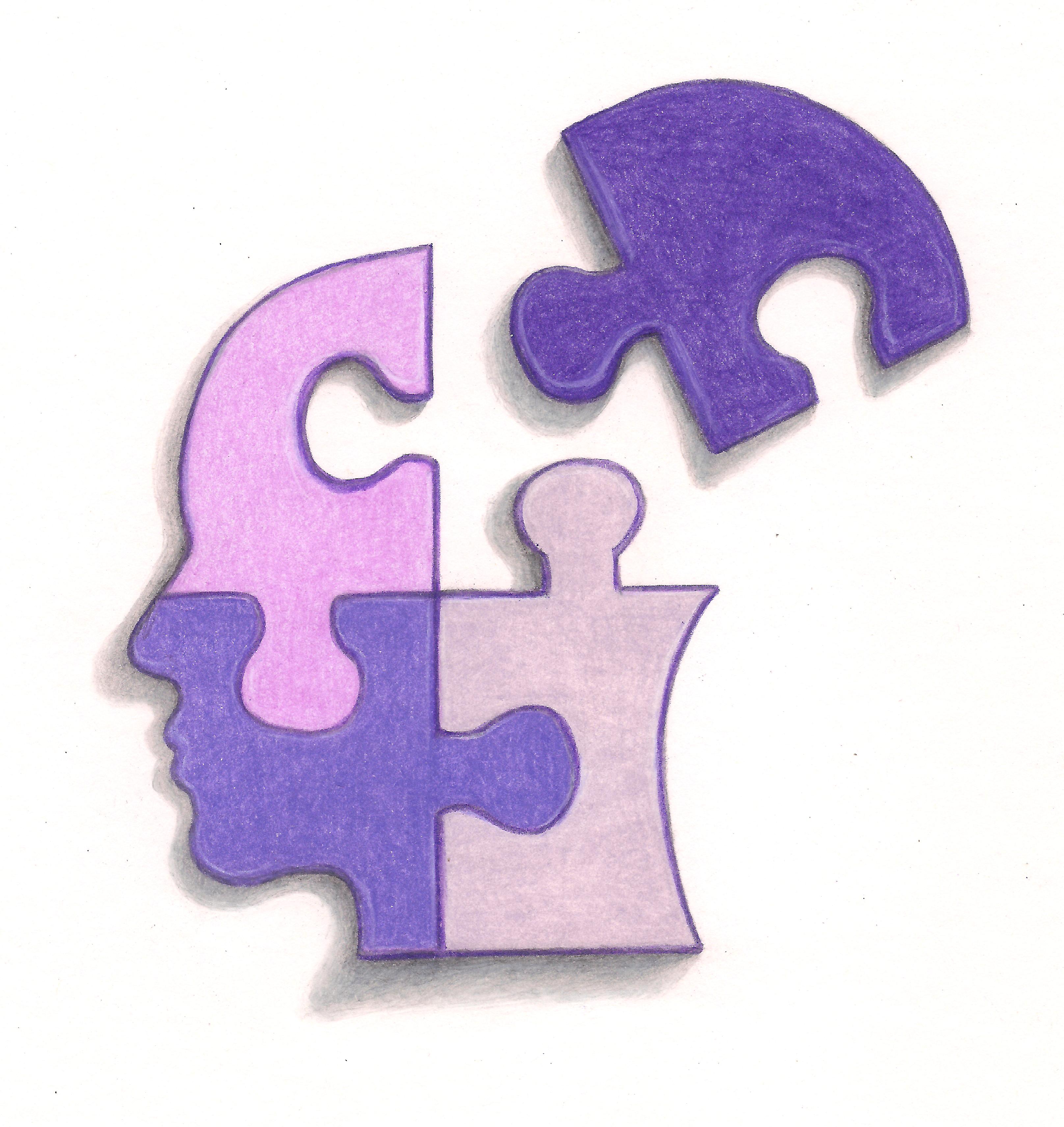 FREE
Coping with Dementia Caregivers Conference Coming September 13th!
We hope you are already making plans to attend our 4th Annual Coping with Dementia Caregivers Conference, which will take place at Our Lady of Grace Catholic Church, 6 Roosevelt Blvd. in Beverly Hills.
Doors open at 9:30, and the program begins at 10:00. This will give you a half hour to talk with our resource partners and have a complimentary doughnut and some coffee.
Speakers will include Alzheimer's Family Organization President Debbie Selsavage, speaking on a compassionate approach to care; Vera and Kenneth Swade, explaining guardianship and other options for care management, Jonathan Beard, speaking on advanced directives and the services available through hospice, and Certified Aging-in-Place Specialist Rebecca Martin speaking on home modifications designed to keep elders and people with dementia safe at home as long as possible.
In addition, the Virtual Dementia Tour will be with us again this year. This was a big hit last year. Caregivers who have gone through this simulation of what people with dementia hear, see, and feel always come away with a better understanding and more empathy of what their loved one is going through. It is free, provided by Senior Helpers.
If you choose, you will also have an opportunity for a free hearing screening, brought to us by Advanced Family Hearing.
There is much more but cannot list all that will be happening.
This year we are going to have two exhibit previews for Alzheimer's awareness that will be rolled out in October. One is a mini version of The Art of the Fidget Mat that will open at Central Florida College in Lecanto on October 20, and the other is a traveling photo exhibit that really brings Alzheimer's home by celebrating many of the great and famous Americans who have died from this disease.
Meridien Research, which is the sponsor for your lunch, will be there to schedule free Alzheimer's screenings at their offices in Brooksville.
Paula Bateman will be there with her acoustic musical trio to entertain during the opening of the conference, and a lunch time.
You can also pick up a free copy of Senior Voice, which I will tell you more about below.
The conference will adjourn by 2:30 p.m. While it is all free, we need for you to register so we will be prepared to provide enough materials and lunches for an audience that usually approaches 200 people. Call us at 352-422-3663. We'll looking forward to seeing you there.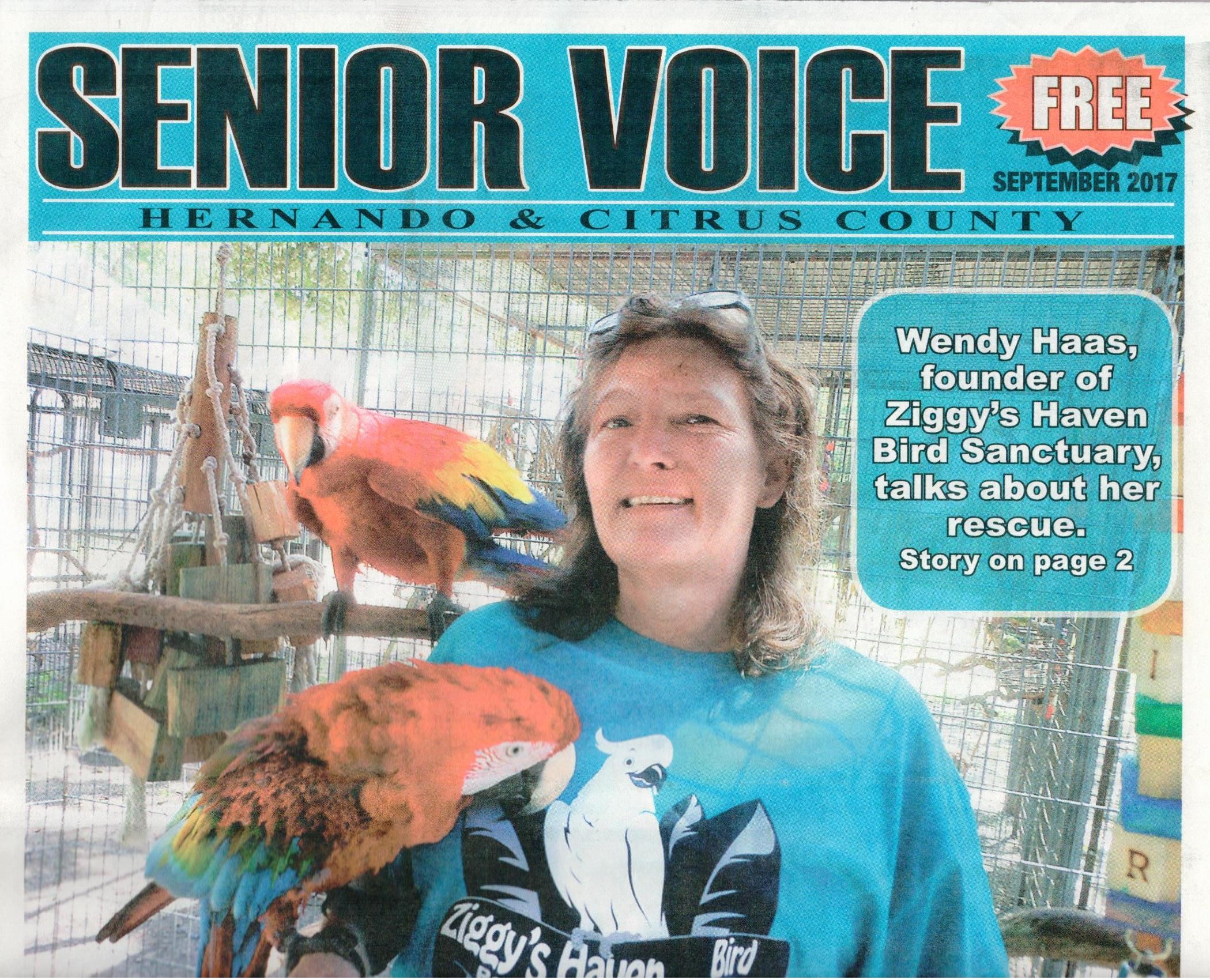 Some of you may be aware that in addition to my monthly column for the Citrus County Chronicle, I am now also writing about Alzheimer's and dementia in Senior Voice, a free monthly newspaper for residents of Hernando and Citrus counties.
Last month I wrote about the dangers of wandering during our terribly hot Florida summer weather, and this month I have written about how the high percentage of seniors over the age of 65 in both Citrus and Hernando make dementia a greater concern for our medical providers, police, and other safety and rescue services.
Senior Voice is not just medical information. It covers a wide range of topics of interest to seniors, and also contains some pretty entertaining material. The locations where you can pick it up for free are too many to list here. Give them a call at 352-277-6309 and they will tell you where to find it near where you live. If they ask where you heard about them, tell them Coping with Dementia sent you.
You can also pick up a free copy at our 4th Annual Coping with Dementia Caregivers Conference in Beverly Hills on September 13.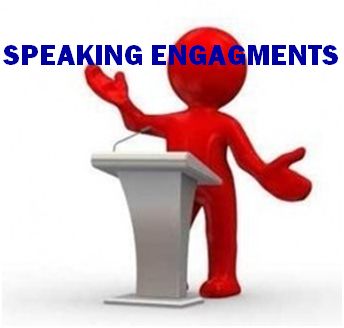 Coping with Dementia
will come to
speak!
If you are in charge of organizing speakers, workshops, and activities for your club, church, or organization, you can add Coping with Dementia to your list of speakers.
I am always eager to speak to a group, club, or organization. If you will listen I will come. I am prepared to go anywhere and talk to anyone about Alzheimer's and dementia.
We know that the summer is a slow time of the year and many people are traveling. Do not wait. Call me now and book an engagement before my fall and winter calendar fills up.
If you think this topic is too difficult and depressing for an enjoyable, empowering, and educational presentation, then you have not heard me speak. I tackle the topic with compassion, understanding, smiles, and laughter, and often with amusing stories from my own care giving experience.
Call me at 352-422-3663 to set a date for your organization, church, or club. We can even talk about having your organization host an ABC of Dementia workshop.
You'll be pleasantly surprised.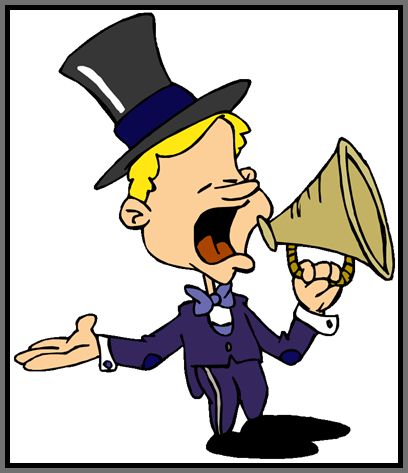 INFORMATION
Programs and Resources
Do Not Hesitate -
Call Now!!!
Scent jars are a way to be proactive in protecting a loved one that may find themselves lost and missing from home. Find-M' Friends has distributed more than 5,000 of these in Citrus County. Please call and see how you can get a "Out of Harms Way" kit for your loved one. Call Linda at 352-613-3486 or Debbie at 352-422-3663. Website is: http://www.findmfriends.org/
Hospice of Citrus and the Nature Coast offers FREE programs throughout the month, including Five Wishes, Alzheimer's awareness training, and movies. Please call and 866-642-0962 for more information. Website is: http://hospiceofcitrus.org/
Elder Options has FREE educational programs such as Savvy Caregiver Training workshops. They also have a help line that will provide you with services that can meet many of your needs. For more information please call 352-692-5219. Website is: http://www.agingresources.org/savvy-caregiver-training/
The Alzheimer's Family Organization offers programs and services such as support groups and Caregiver Days. For more Information please call 352-616-0170. Website is: http://www.alzheimersfamily.org/

Citrus County Senior Services has many opportunities for socializing with other seniors. These include community centers, meals on wheels, and companion services. For more information on many of their programs call 352-527-5975. Website is: www.citrusbocc.com
The Citrus County Veterans Office provides assistance and guidance to veterans and their families to best navigate the VA system. For more information call 352-527-5916. Website is: www.citrusbocc.com
Seven Rivers Senior Circle has a variety of programs focused on seniors. There is a new Caregiver Support Group that will meet the last Wednesday of each month beginning at 10:00 a.m. facilitated by Sue Simone under the auspices of The Alzheimer's Family Organization. For more information please call Katie at 352-795-8400. Website: http://www.sevenriversregional.com/classes-and-programs/programs/senior-circle?program=707253&category=334783.
The United Way has many services for the community. One is a helpline. Call 2-1-1 to seek the services you need.
Teepa Snow has many videos on YouTube that can be very helpful if you are caring for a person with dementia. Please take the time to view them at Teepa Snow-You Tube Videos or website: www.teepasnow.com
Citrus County Dementia Friendly America publishes a resource brochure that can be helpful to people coping with dementia. For a free copy call 352-697-2288.
Other Support Groups in Citrus County
Central Ridge Library-third Wednesday of the month 12:00 -1:30 pm. Call Marilyn Campbell 352-249-1183.
Floral City United Methodist Church-third Friday of the month at 10:30 am. Call Marcia 352-726-7740
First United Methodist Church in Homosassa-second Monday of the month at 1:00 pm. Call Karen Kline 352-628-4083.
Cornerstone Baptist Church-first Tuesday of the month at 6:00 pm. Call the church at 352-726-7335.
Sugarmill Manor-This support group is run under the auspices of The Alzheimer's Family Organization.Contact Samantha for more information 352-382-2531.
Citrus County has lots of services and opportunities available to caregivers, and each month we will keep you advised when new opportunities arise.
Call 352-422-3663 now to find out what services will be a good fit for you and your loved one.
We all need help, and we all deserve the best.


What is Sundowning?
I hope you do not miss the Tuesday September 5th edition of the Citrus County Chronicle where you will find my latest monthly column entitled "What is Sundowning."
If you are a caregiver for a person living with Alzheimer's and dementia you may be experiencing a daily or almost-daily occurrence called "Sundowning" that includes changes in mood and behavior that can make your task more difficult. Hopefully, my column will give you some sense of what is going on with your person and how you can deal with changing behaviors. It can be a difficult time for both the caregiver and your loved one, but there is a reason why this is happening.
If you do not receive the Citrus County Chronicle, just e-mail me and I will send you a copy of my column.
Also, if you have a question you would like me to address in a future column, please let me know. Write deb@coping.today, or call me at 352-422-3663.


"Out of Harms Way"
scent jars are here!
Citrus County now has an ample supply of scent jars from a new local non-profit supplier, and they are available for a donation.
We cannot stop emphasizing how important it is for caregivers of people living with dementia to have their pure scent on hand in a scent preservation jar.
We've seen right here at home clear evidence of how quickly a scent-discriminating bloodhound can find someone who has wandered and gotten lost. . . provided they have a scent jar! In these circumstances, time can mean the difference between life and death. If you have not done it yet, please do.
For information on how to obtain your Out of Harm's Way sent jar, call me at 352-422-3663, call Find-M' Friends at 352-613-3486, or call the Citrus County Sheriff's office at 352-726-1121.


Caregiver Learning Day coming to N. Hillsborough
If you are a caregiver for a person living with Alzheimer's and dementia and have questions about what is going on with your loved one, call now and reserve your seat for the next Caregiver Learning Day presented by The Alzheimer's Family Organization.
Arden Courts is graciously hosting this event, which will include lunch. The date of this educational day is September 15th from 10:00 - 2:00 pm. You will be surprised how much you will learn!
Call 352-616-0170 and reserve your seat. We are waiting to talk to you.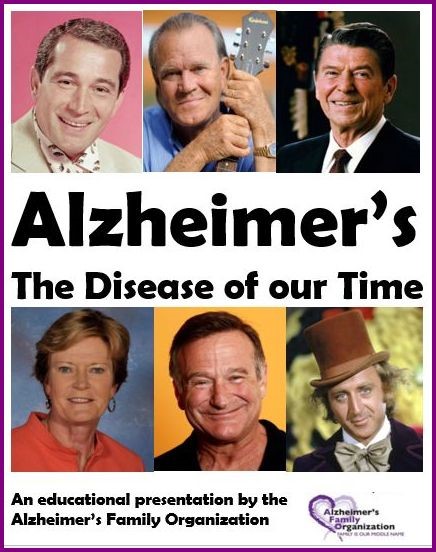 Photo Exhibit
to debut at
Coping Conference
Alzheimer's is the Disease of our Time. No one is immune. It is progressive, it is irreversible, and it is fatal. To date, a cure or effective therapy is yet to be discovered.
To help advance the necessary conversation toward better awareness so people will understand that no one is immune to Alzheimer's and other forms of dementia, Coping with Dementia LLC has teamed up with Walgreens to sponsor a traveling photo exhibit of 24 famous American artists, politicians, athletes, entertainers, writers, and musicians who have succumbed to this disease. We think you will be surprised when you see who they are.
This exhibit will debut at the 4th Annual Coping with Dementia Caregivers Conference on September 13 at Our Lady of Grace Catholic Church in Beverly Hills, Florida.
Afterward, the exhibit will be relocated throughout Citrus County, including its five public libraries, before it begins a tour under the auspices of the Alzheimer's Family Organization to seven other west-central Florida counties.
Over time, it will be seen by hundreds of thousands of people. But see it first at our Conference. The conference is free. To reserve your space call 352-422-3663.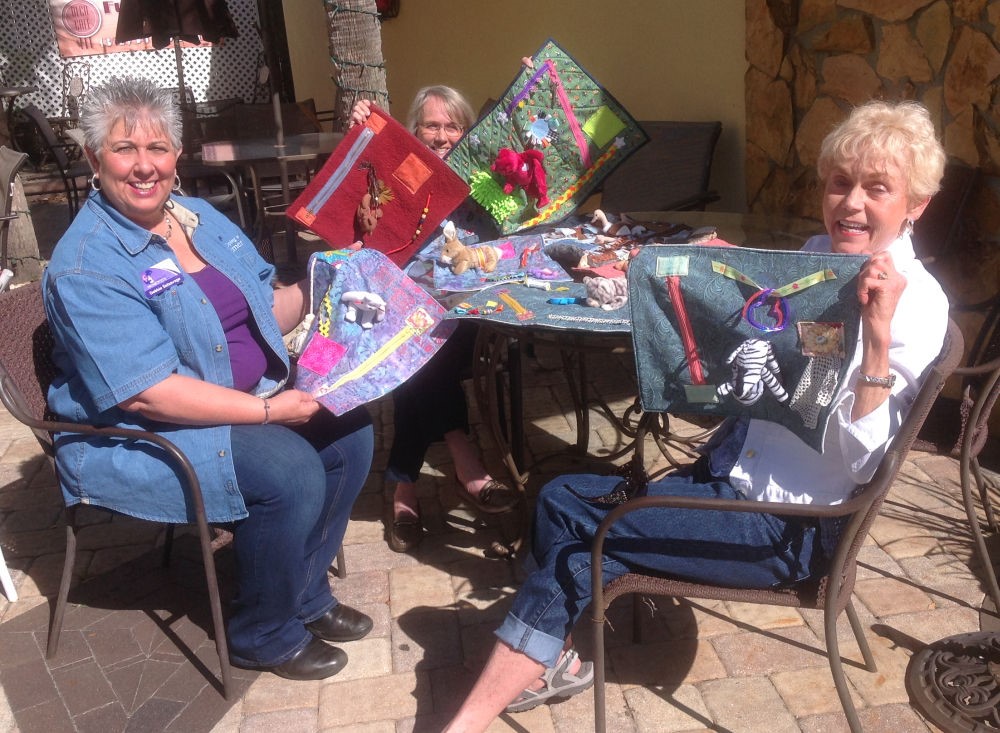 Have you heard of a
Fidget Mat?
A fidget mat is a piece of quilting art that features buttons, snaps, zippers, tassels, pulls . . . anything that a person with Alzheimer's can fiddle with to remain occupied. But they are not just for entertainment; it is also therapeutic. A fidget mat will help the person exercise manual dexterity, and it keeps them from picking the skin on their arms.
Fidget mats are also wonderful works of art, which we will celebrate later this month. They are colorful, innovative, whimsical, and utterly original. No two are alike.
We at Coping with Dementia will celebrate the fidget mat by presenting an exhibit of them at our 4th Coping with Dementia Caregiver Conference on September 13.
Then, on October 19, in cooperation with the Citrus County Friendship Quilters Guild, we will open a big fidget mat exhibit at the College of Central Florida in Lecanto. There will be refreshments, live music, and an opportunity for you to help raise funds for the Alzheimer's Family Organization by voting on what you think are the most beautiful mats.
This exhibit, consisting of about 40 fidget mats, will remain on display through the whole month of November. We would love your support.
Donations will be accepted. Call me for details at 352-422-3663.


Senior Community Tour Series
is Back!
The Citrus County Chronicle is taking residents on a bus tour of senior living communities in the area. It is called "Our Next Chapter". The tours will include assisted livings, independent living, skilled nursing, and memory care communities. This was a big hit when they did it last year. It is a great way to inform you of the options that are out there.
There are four tour dates available:
September 5th
October 3rd
November 7th
December 5th
Call Amber Manz to reserve your seat 352-563-5592.
Thank you to the Chronicle and their sponsors for this great services for seniors in Citrus County.


Thanks, Superior
and Sunflower, for supporting AFO!
A great big shout out to sister communities Superior Residences of Lecanto and Sunflower Springs of Homosassa for going over and above to support the Alzheimer's Family Organization!
During the month of September, they are donating ten dollars ($10) for every tour they give to a potential client. Thank you, Superior and Sunflower for your creativity and your generosity.
Watch for me in the next few months on our local TV shows, Chamber Chat and Citrus Live. I will be talking about the upcoming events that Coping with Dementia is involved in, such as:
The 4th annual Coping with Dementia Conference on September 13th, and the first Citrus County walk Aware for Alzheimer's on October 19th - 22nd.
So tune in and watch the shows with Josh, Neale, and Dennis. I am very excited to be a guest on these shows and grateful for the opportunities provided by WYKE.